THE 4 BIGGEST CHALLENGES OF BEING A MECHANIC
Being a mechanic has changed a lot in recent years. The old and sometimes romanticized profession is changing due to new technologies and vehicles that are getting increasingly bigger, smarter, and more complex day by day. So what is it like being a mechanic today?
To answer this question, we will outline the 4 biggest challenges of being a mechanic today. And on top of that, we will present how working with our widely acknowledged inground lift can help mechanics overcome each challenge.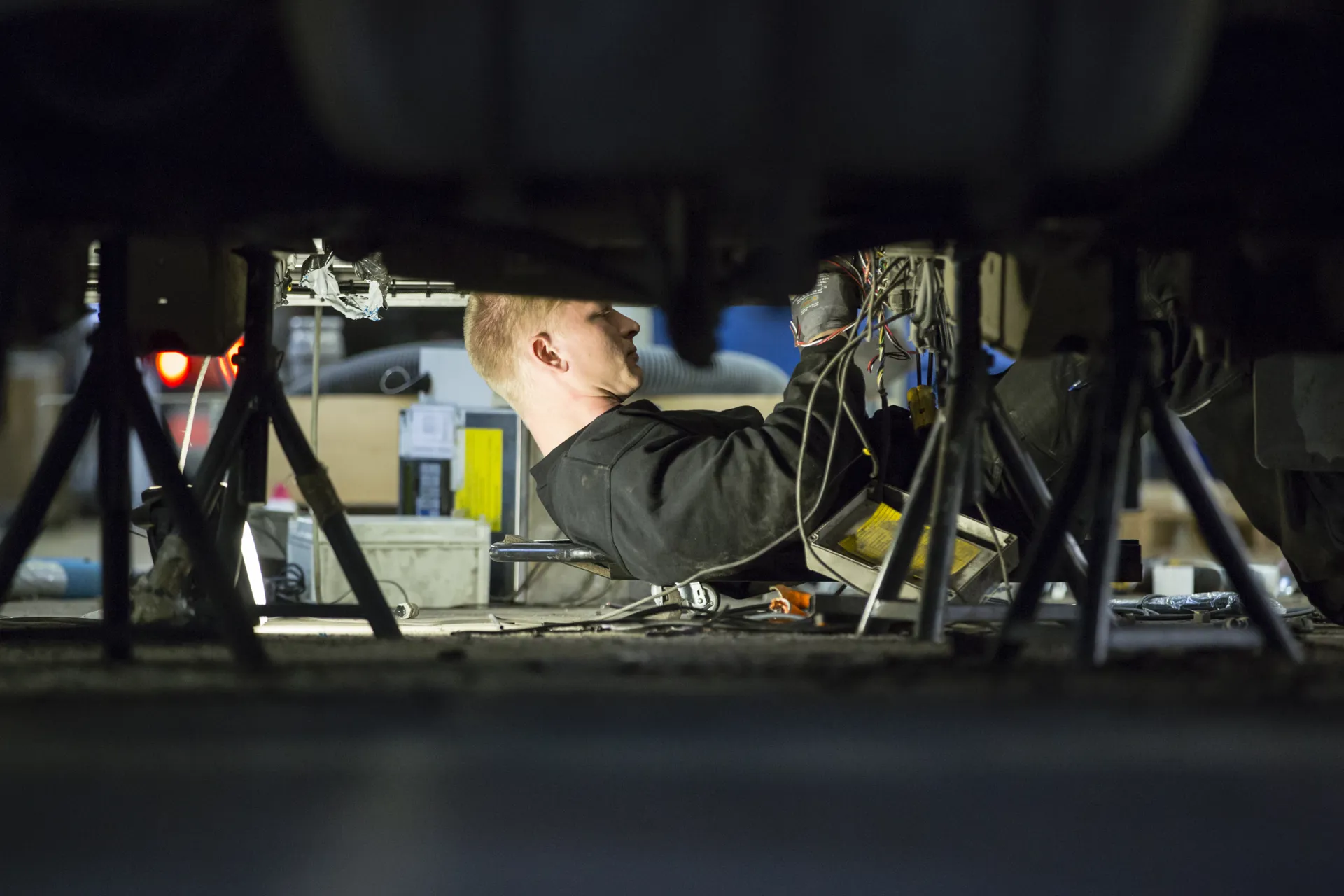 1. SPEED UP!
We all know the classic phrase time is money. And even though it has been the truth for many years, it has never been more critical than it is today. Most workshops are forced to keep up with increasing demands – and to do so, mechanics must work faster than ever.
It is easy to ask people to speed up. The tricky part is to actually do it. At AC Hydraulic, we believe that mechanics always do their best. So, to help them speed up, workshops must invest in the tools that will help their mechanics work smarter. And by doing so, work faster.
Solution: Work faster with the inground lift
With the inground lift, mechanics can adjust the lifting height to suit any possible job. This easy adjustability, not only ensures that mechanics always operate at the best possible working height, but also guarantees that they have full access to all parts of the vehicle.
Another, sometimes overlooked, benefit of raising vehicles up in the air is the way it frees up floor space. This makes it possible for mechanics to collect all the necessary tools on a trolley and bring them close to the vehicle in question. By doing so, mechanics no longer need to walk back and forth to pick up their tools; this obviously increases their efficiency and ability to work more quickly. As a result, mechanics can work faster with the inground lift. An example of this boost in efficiency can be seen at Volvo Trucks, where a set of brakes can now be changed 45 minutes faster than was possible before they started working with the inground lift.
 Read the Volvo Trucks case story and learn more about how the inground lift have improved their efficiency
2. SPEED UP – AND PERFORM 100%
It is not enough just to work faster. Because what is the value of being fast, if it just means you are cutting corners? Therefore, increased efficiency must always go hand-in-hand with a dedicated focus on delivering world-class repair work. So, please do not cut any corners – even though it might be tempting if you are under time pressure – for the sake of everyone's safety on our roads.
You see, taking the easy way out and performing a somewhat inventive solution, could prove a real safety risk – not only to the mechanic in question but also to the driver of the vehicle and road-users in general.
Ready to improve the safety of your workshop? Then read our 8 operational tips on how to improve safety.
Solution: Improve troubleshooting with the inground lift
One of the best ways to make sure that mechanics always perform at their best is simply to eliminate the temptation to cut corners.vSince the inground lift can be positioned at a range of working heights, mechanics have free access to all parts of the vehicle. So, to put it simply, with the inground lift, you will not win any time by cutting corners.
The improved access to all part of the vehicle, not only increases efficiency, but also the quality of the repair work. All in all, it makes it easier to perform troubleshooting and detect potential hazards.
Learn how the inground lift helps Odense Waste Management Center find more faults earlier before they become critical.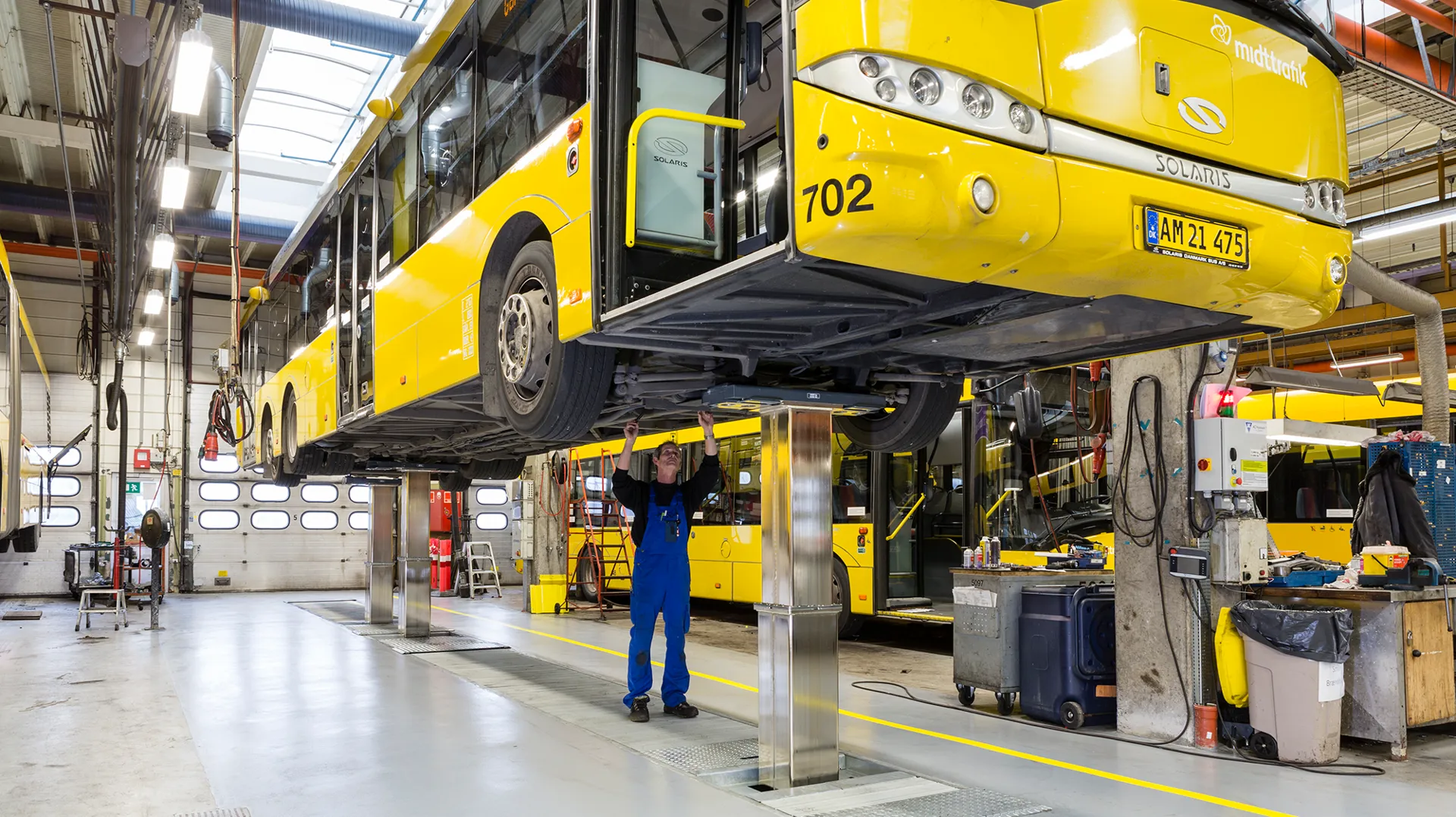 3. BE READY TO FACE THE FUTURE
In recent years, vehicles have become increasingly complex. Not only are they getting bigger and bigger, they are also getting smarter with a growing focus on electricity as propulsion power. This development is putting great pressure on mechanics and workshops. The workshops need facilities that can handle these demanding vehicles and the mechanics need the skills to operate the tools. Over time, failing to future proof your workshop most likely will result in you having to turn down certain tasks.
Solution: Meet every need with the inground lift
The inground lift is engineered to meet your specific requirements – today and tomorrow. Our flexible Danish Made inground lift can be delivered customized with as many as 8 lifting rams, each with a capacity of 15 tonnes. Meaning that the lifting capacity ranges from 30-120 tonnes to meet your specific requirements.
The customization in terms of size and adjustable working height means that mechanics have the access they need to service the increasing number of sensitive components in today's modern vehicles, such as sensors, transmitters, and wires. So, hey future, we are ready for you – no need to turn down new types of tasks!
This was the case for NEG Niebull, Germany until they invested in our inground lift – read the full case story here.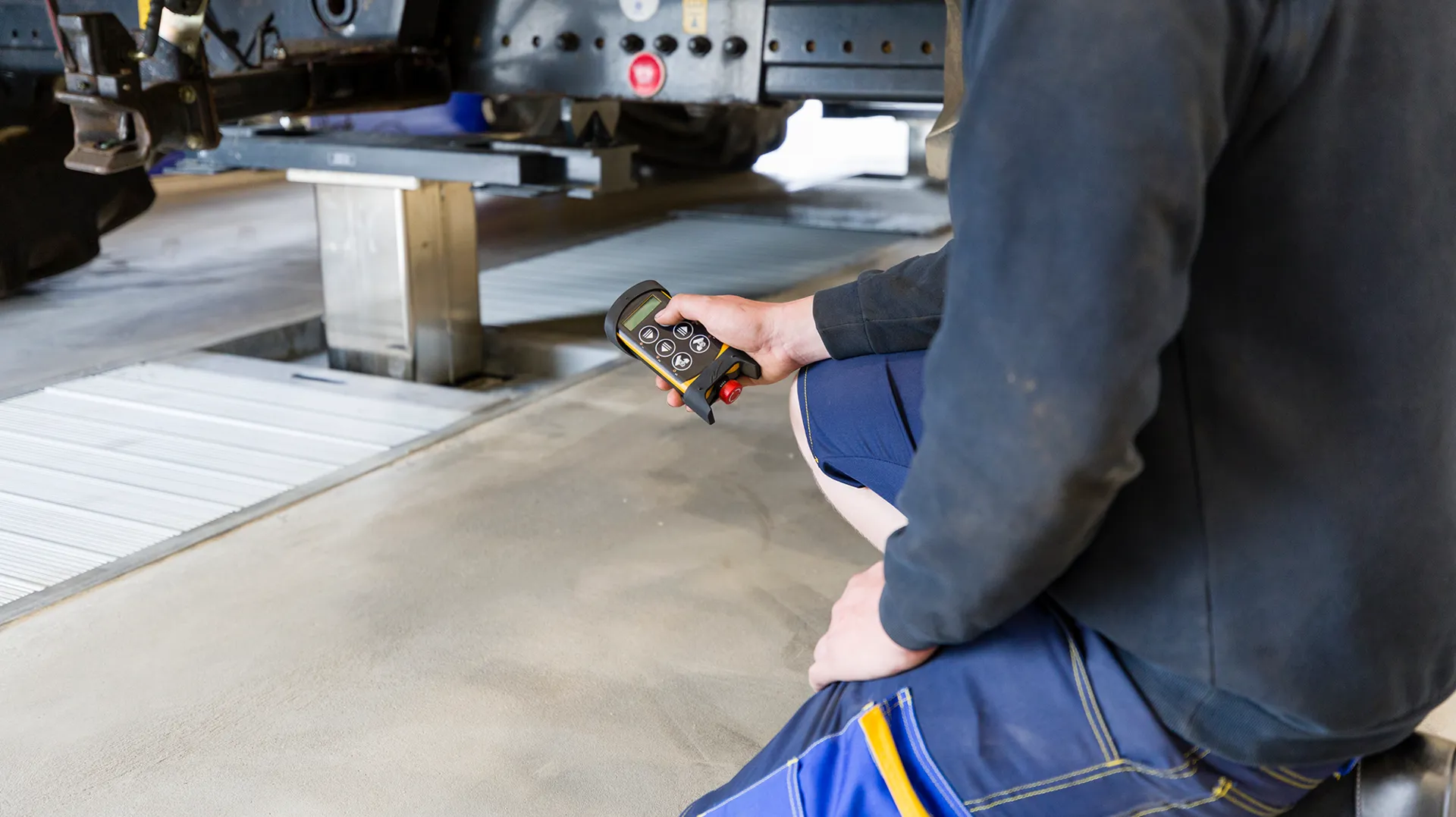 4. MECHANICS CARRY AN ENORMOUS RESPONSIBILITY
Our first three challenges have focused on being a mechanic in a changing world: Today, you need to be faster and better. And tomorrow, you will need to be even faster and even better. However, in this maelstrom of increasing demands, there is one thing that remains the same. And that is our fourth and final challenge.
Every time mechanics do repair work, the driver of the vehicle in question, and all other road-users, put their safety in the hands of the mechanic. To say the least, this is quite a responsibility and presents a continuous challenge to put out flawless work. From that perspective, the biggest responsibility in being a mechanic is not just a momentary challenge, but a precondition inextricably linked with the job. And that is why, for the sake of our safety, mechanics should always be equipped with the best possible tools.
Solution: Keep calm with the inground lift
To carry their enormous responsibility, mechanics need optimum working conditions. At this point, it should be no surprise that the inground lift helps mechanics and workshops meet their present and future challenges.
If you would like to know more about the inground lift, you are more than welcome to read the post, "Raise the standards of your workshop with our inground lift", which gives you a thorough yet easy-to-understand review of the inground lift and how it creates value for workshops.