À propos de
Points forts
Spécifications techniques
Accessoires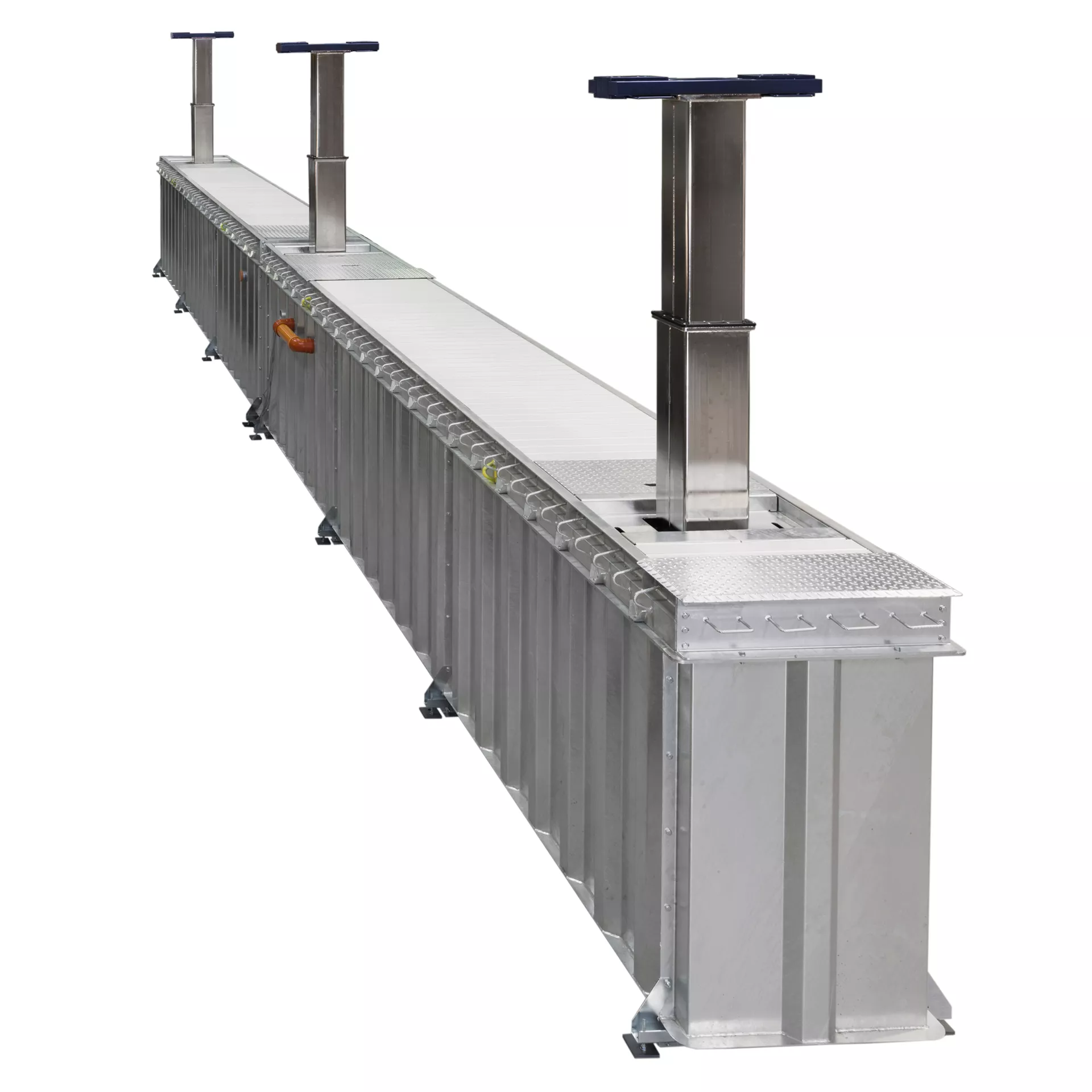 Inground lift - Casette solution
Service vehicles of all types, sizes and shapes.
Panneau de commande avec écran tactile
Revêtement roulant robuste avec capacité de charge de 7 t
À niveau du sol de l'atelier
Garantie la plus longue au monde
Mises à jour du logiciel et assistance à distance

Sécurité

Les fûts de levage carrés assurent une stabilité maximale et 2 circuits hydrauliques indépendants dans chaque fût de levage offrent une sécurité optimale

Simple et rapide

Le positionnement rapide et facile des fûts de levage réduit le temps de préparation

Télécommande sans fil

Le pont à fûts est entièrement automatisé et facile à utiliser à l'aide d'un télécommande sans fil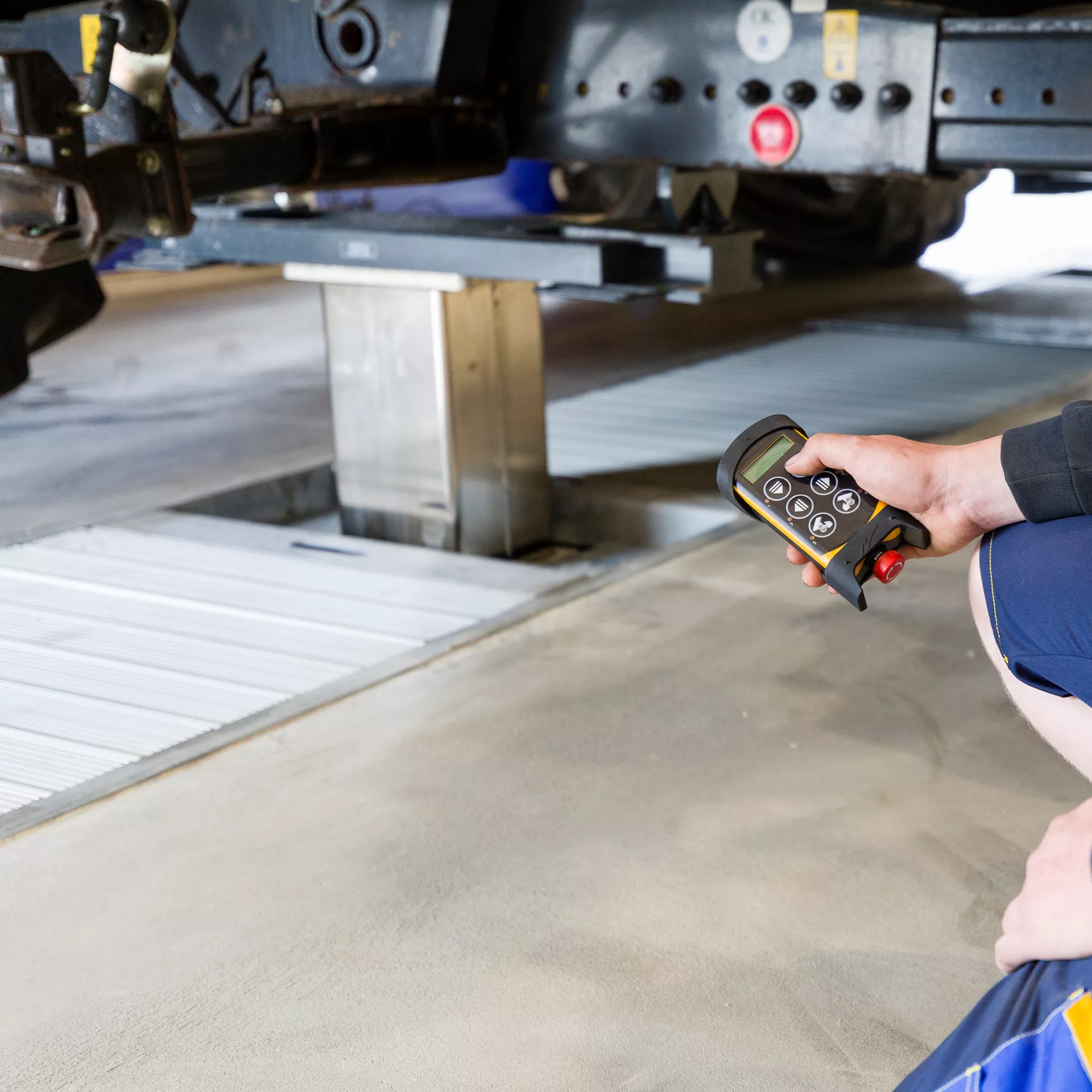 L'EXPÉRIENCE CLIENT EST ESSENTIELLE DANS TOUS LES ASPECTS DE NOTRE ACTIVITÉ.
SERVICE APRÈS-VENTE RAPIDE

Expert advice. Whenever you need it. No matter what solution or brand you are looking into, a complete overview of your options is paramount. That is why we urge you to explore and compare our solution with others and we will simply offer our technical expertise to help you choose the right solution. If you are looking into the Inground Lift, we will help you get the most from your investment, guide you through every step of the process, and train your staff – with no extra charge.

TÉLÉCOMMANDE SANS FIL

Fully automated. Easy operated. The inground lift is fully automated and easily operated using a wireless remote control. The wireless remote control allows the operator to move freely around the vehicle for quick and easy inspection of the lifting points. It allows the operator to adjust and/or raise each column individually to make sure everything is correctly positioned. The lift is then operated using the control panel allowing the operator full view of the vehicle whilst lifting. The screen on the panel offers information about the operation of the lift, column positions as well as safety and maintenance updates.

FLEXIBILITÉ TOTALE

Overview. Easy. The inground lift is a revolution in the way that users can service vehicles of all types, sizes and shapes. The flexibility of the design allows lifts with 3 columns or more to be divided in groups and used as independent lifts giving you total freedom to service a continuous flow of different vehicles. This enables your team of mechanics to work side by side on different tasks with absolute safety and no restrictions.

PERSONNALISEZ VOTRE PONT

To meet all your demands. Today, vehicles are becoming more and more compact creating new challenges for professional automotive workshops, and these challenges will only increase in the future. Therefore, it is crucial to have the tools that effectively allow mechanics easy access to all parts of the vehicle. This not only raises the standards of efficiency in the workshop and the quality of the repair work, but it also improves the working conditions, ergonomics, and safety of the mechanics themselves. We offer a safe, ergonomic and efficient solution that will help you meet all the increasing demands of a modern automotive workshop.
IL Y A AUSSI UN REVENDEUR PRÈS DE CHEZ VOUS
Nos produits sont vendus dans le monde entier par un réseau de distributeurs locaux de confiance, experts dans nos gammes de produits. Trouvez un distributeur près de chez vous dans notre localisateur interactif de distributeurs.