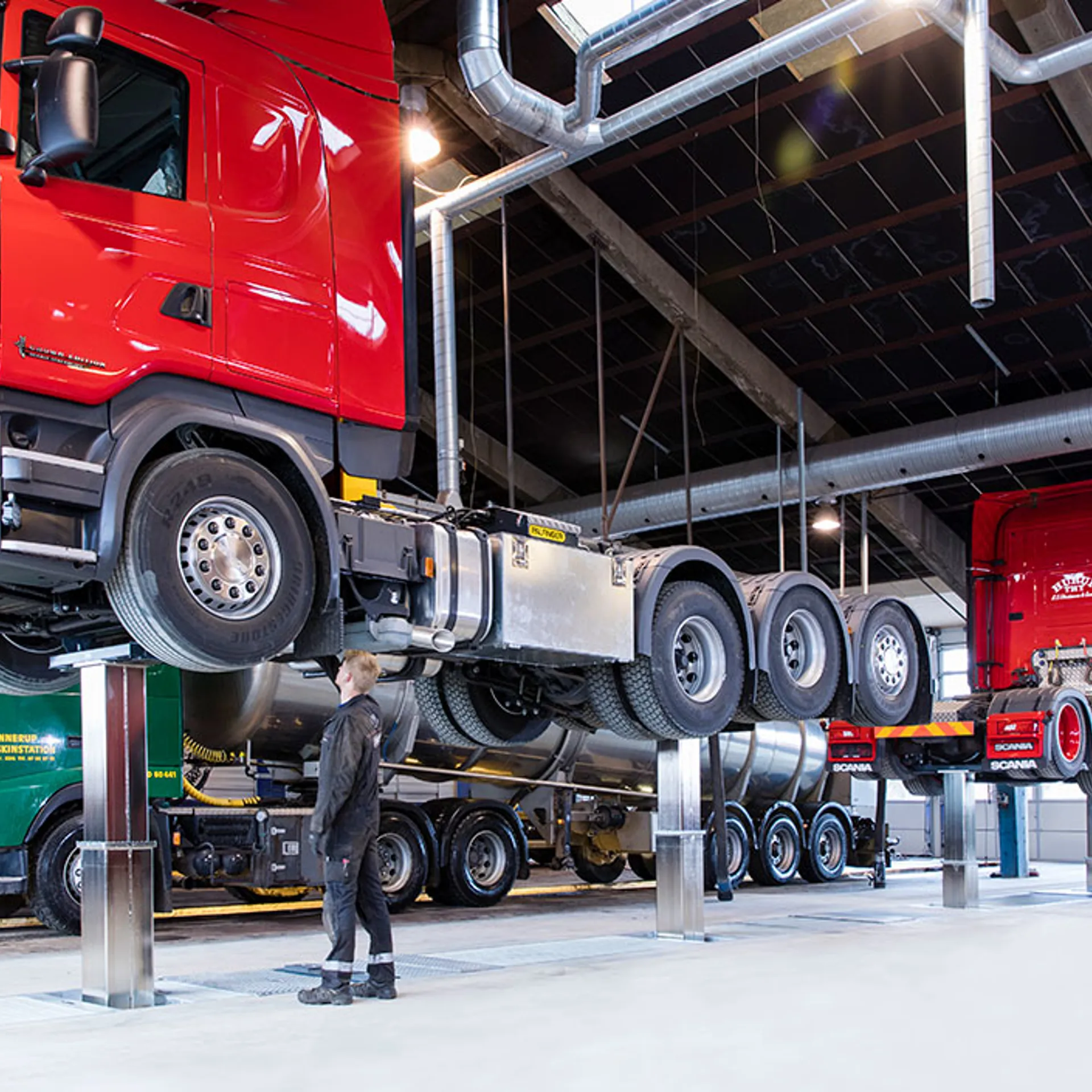 "In our industry, time is money"
Stiholt Thisted is an authorised Scania workshop that employs more than 30 people. The workshop services everything from lorries and buses to cranes, refrigeration equipment and flatbed trucks.
The 26-metre-long lift at Stiholt in Thisted, Denmark is northern Europe's longest inground lift.
In 2016, the workshop was extended to include new 32-metre lanes and a five-column inground lift. Repairs to flatbed trucks and modular road trains are performed indoors under the best possible working conditions for the mechanics
Future-proofing the workshop
"As an authorized Scania workshop we focus on making life easier for our clients and drivers while helping them increase their buttom line. That's why ergonomics and the possibility for fast repairs was our primary focus when looking for a lift solution that could future-proof our workshop.
"The lift is our "fast track"
"The five-column inground lift is our "fast track". As expected, it safeguards the mechanics and helps keep sick days to a minimum. The lift allows us to maintain a continuous flow of vehicles through the workshop. This gives us a competitive edge and helps our business to grow.
"In our industry, time is money"
A commercial vehicle needs to be on the road, earning money for its operator. Our clients realise that the inground lift helps us to get the job done faster. The individual client may well receive a smaller bill but, in the long run, the inground lift means that we have more time for more clients and greater flexibility in servicing their needs. The lift has made us more productive and reduced downtime. And in our industry, time is money. It's as simple as that."
Auto Mechanic Martin Pedersen