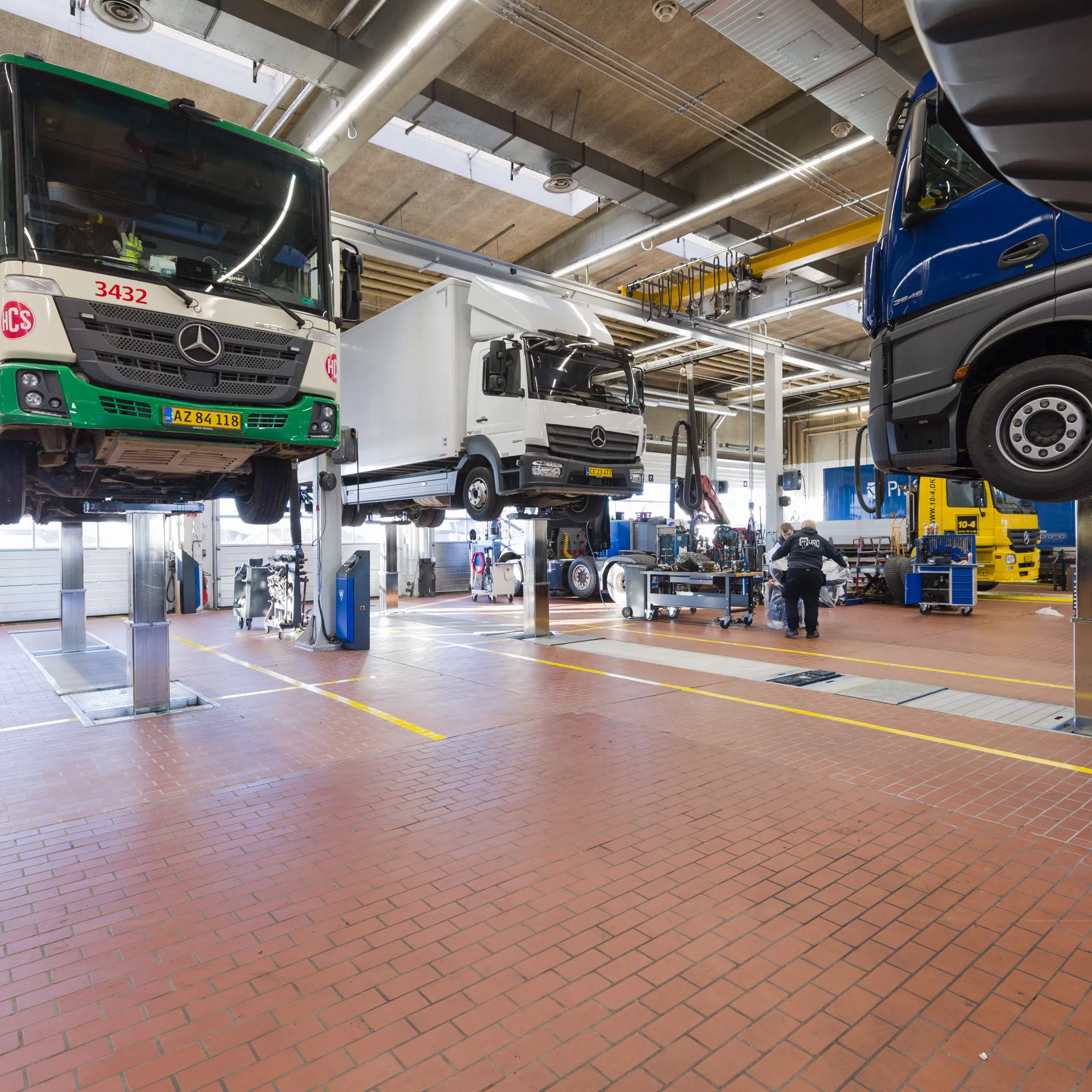 "Good advice resulted
in an optimal solution"
Ejner Hessel A/S
Ejner Hessel is Denmark's largest certified distributor of Mercedes-Benz, Renault and Dacia. The branch in Tilst spans more than 13,000 square metres across two dealerships. In conjunction with the modernisation of the truck workshop in 2018, two old lifts were replaced with two in-ground lifts: one with 2 columns and one with 5 columns.
The workshop interior has signifying value
We want our dealerships to signify that we are the workshop of the future. It was therefore important for us to replace the old lifts with something more modern and up-to-date. And with the in-ground lifts from AC Hydraulic we feel that we have achieved this.
The obvious technical advantages provided by the lifts are that we have full lifting capacity for the entire lifting height, the lifting cylinders are fully protected, and the wireless remote control, which works optimally when loading. With that said, it was the professional advice we received that was decisive for our choice.
Even when the modernisation plans were still on the drawing board, we received advice that, in every way, focused on our specific needs and possibilities.
Advice resulted in an optimal solution
AC Hydraulic immediately recognised new possibilities by replacing two of the lifts with a single 5-column in-ground lift. The 22-metre long lift can be separated into zones which can be used independently of each other. Among other things, this means that with the same lift we can handle 7-axle trucks as well as lift 2 trucks front to front while pulling the transmissions out of both at the same time. It offers very high degree of flexibility by enabling mechanics to work independently of each other on the same lift.
Thanks to AC Hydraulics' expertise, we have obtained an optimal, customised solution that not only solved our specific issues, but also gave us new ways to streamline our work.
Administrative Supervisor Henrik R. Nielsen