CHOOSE THE RIGHT INGROUND LIFT SIZE
When purchasing a new inground lift, there are a lot of things to consider. One of the most compelling questions to answer is what size lift do you need to meet all the demands in your workshop? In this blog post, we will guide you through the differences between lifts with 2, 3, 4 or up to 8 lifting rams to help you choose the right heavy-duty lift for your business.
Our inground lift can be delivered as a frame solution or a plug and play solution ready for use in steel cassettes – with 2, 3, 4 or up to 8 lifting columns each with a capacity of 15 tonnes. The lifting capacity ranges from 30-120 tonnes, and it is possible to customize the lift to meet your specific requirements. And this is great news, since you are not forced to go with the fine-tuned Rolls Royce model if all you actually need is a smaller and less expensive model.So, let's take a look at the specs, features, and advantages of the different sizes of the inground lift.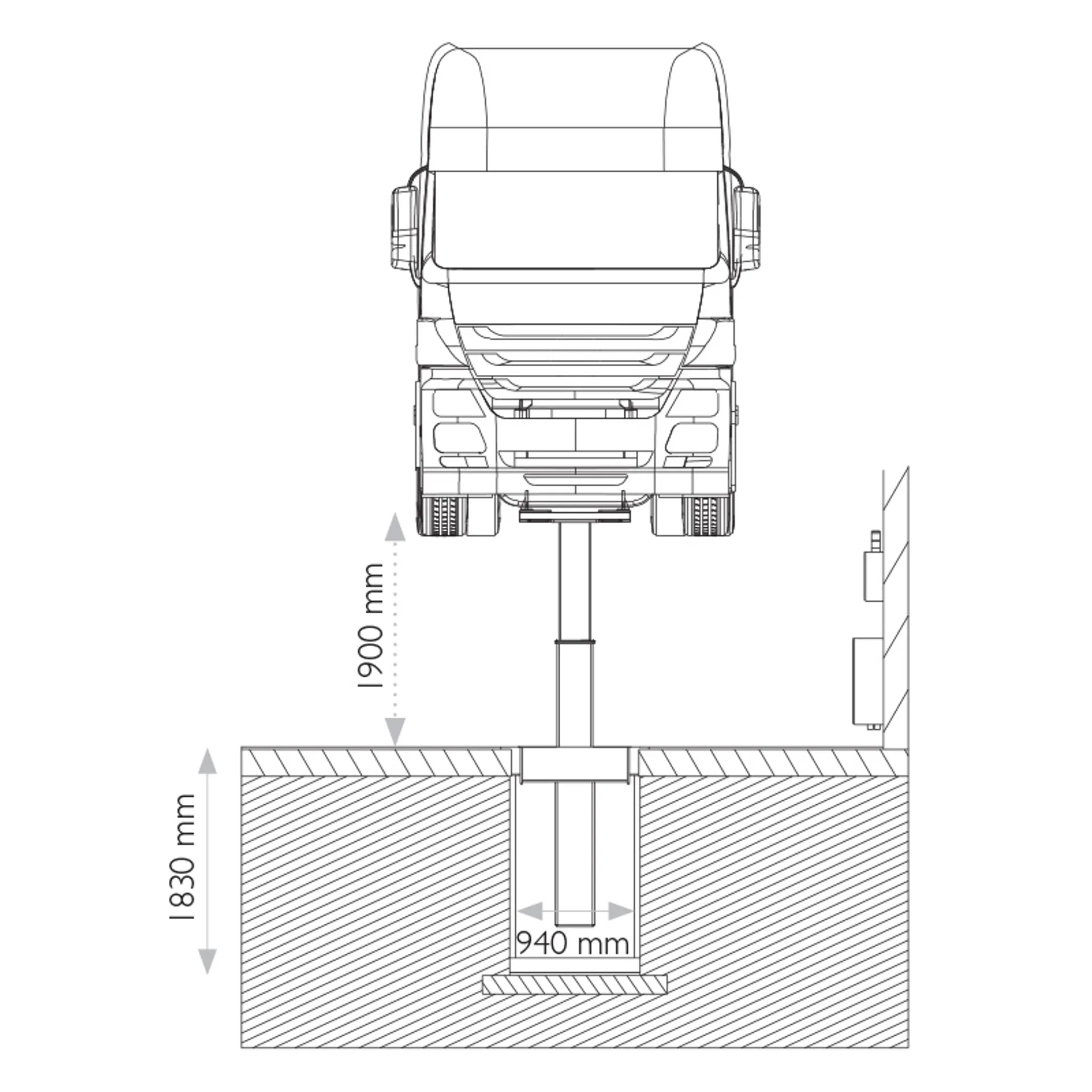 2 LIFTING RAMS
This lift has a maximum capacity of up to 30 tonnes, making it the smallest option. It is used for trucks, tractor units, and buses with one front axle and up to three rear axles. To ensure easy length adjustment for any given task, the front ram is usually fixed while the rear one is moveable.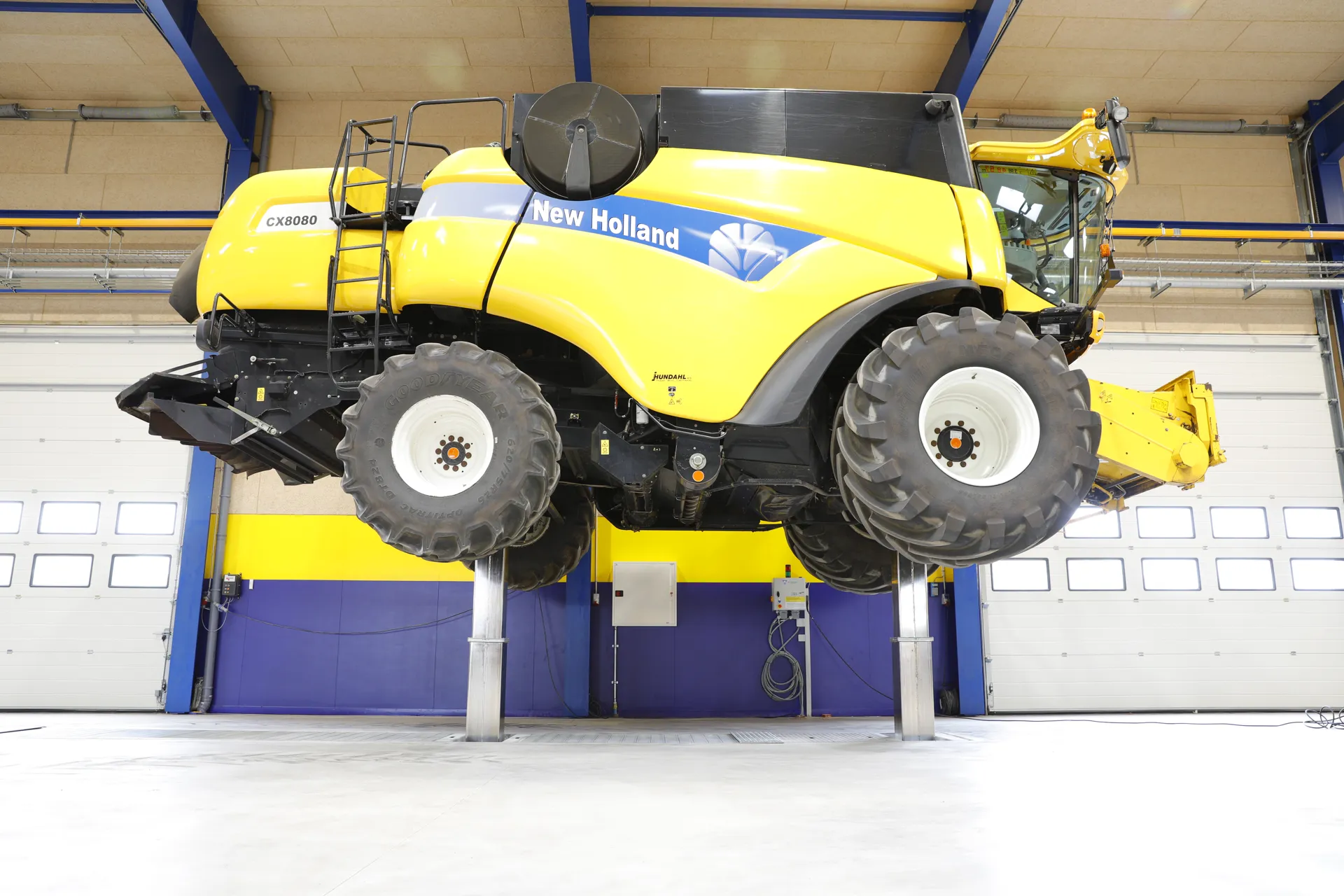 3 LIFTING RAMS
With a maximum capacity of up to 45 tonnes, this lift can be used for all kind of vehicles, including articulated buses and trucks with or without trailers. The middle ram is usually fixed and flanked by the moveable front and rear rams.
Did you know that the lift is delivered either as a frame solution or completely assembled, pre-tested, and ready to be plugged in? 
4 LIFTING RAMS
This model is a great choice for the busy workshop. And how is that?
This lift is delivered with to remotes and can easily be divided in two separate lifts, making it possible to use the lift as two separate work spaces. So, for example, you can repair a truck and a tractor at the same time to increase your workshop productivity. Maximum capacity is up to 60 tonnes.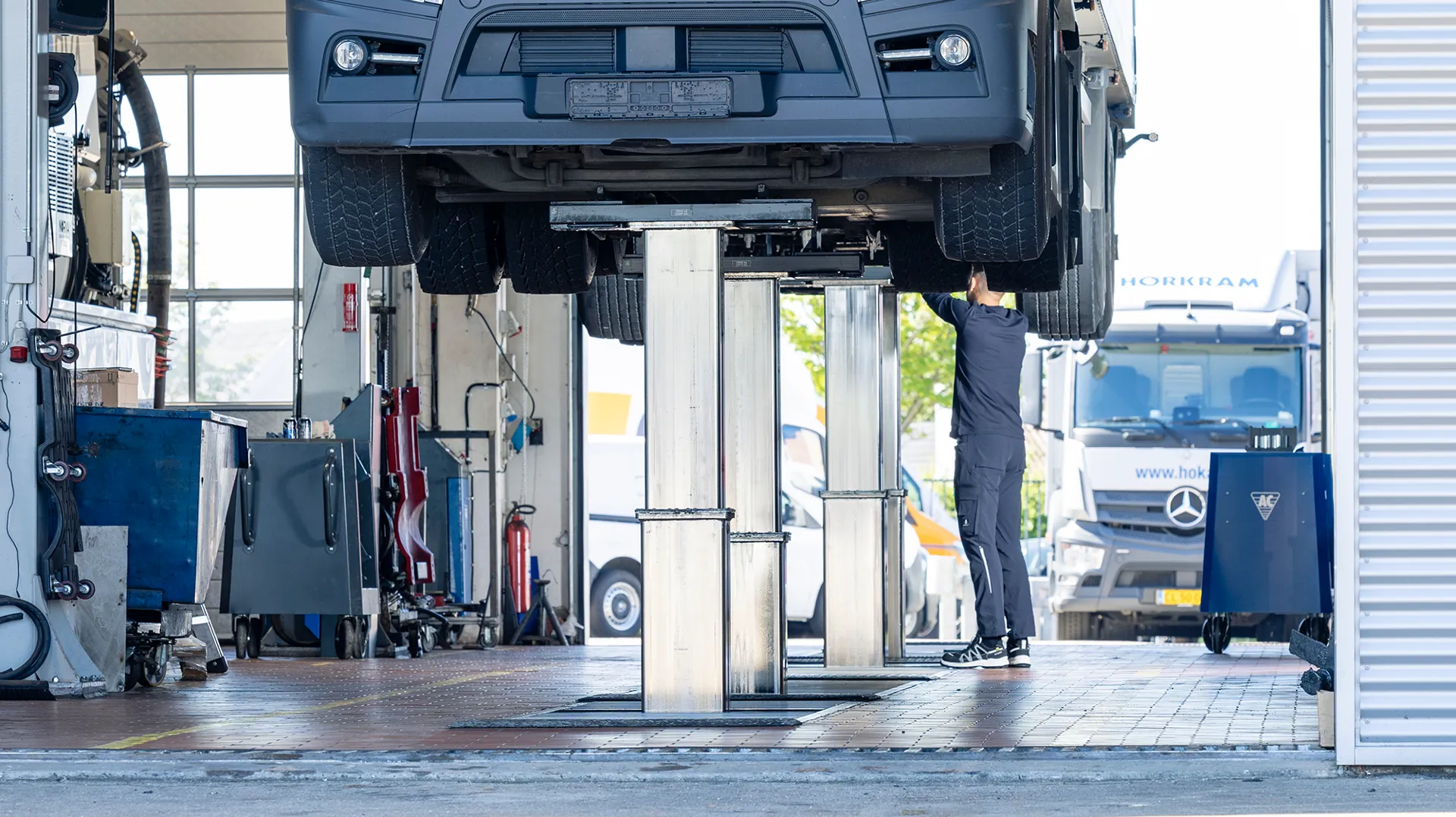 5 OR 6 LIFTING RAMS
These two models are for you, if you know all about the importance of best-in-class lifting equipment when repairing commercial vehicles.
First task of the day might be fast repairs of two trucks, in order to make time for an emergency repair of a low-loader truck. All three task can be carried out on the same lift due to the flexibility of the design – allowing the lift to be divided in groups and used as independent lifts. Maximum capacity is up to 75 tonnes if you go for 5 rams and 90 tonnes if you choose 6 rams.
Did you know that the Scania Workshop, Stiholt uses their 5-column lift as a fast track?  Learn more here.
7 OR 8 LIFTING RAMS
These models are the optimum choice if you won't settle for anything less than the best.  Like models with 4 to 6 lifting columns these two models are delivered with 2 remotes making them flexible enough to work on more than vehicle at a time. If you choose 7 or 8 lifting columns it is always possible to combine the rams to achieve the most optimal flow.
With a maximum capacity of 120 tonnes and impressive 8 rams this is the optimum solution for all present and future lifting tasks.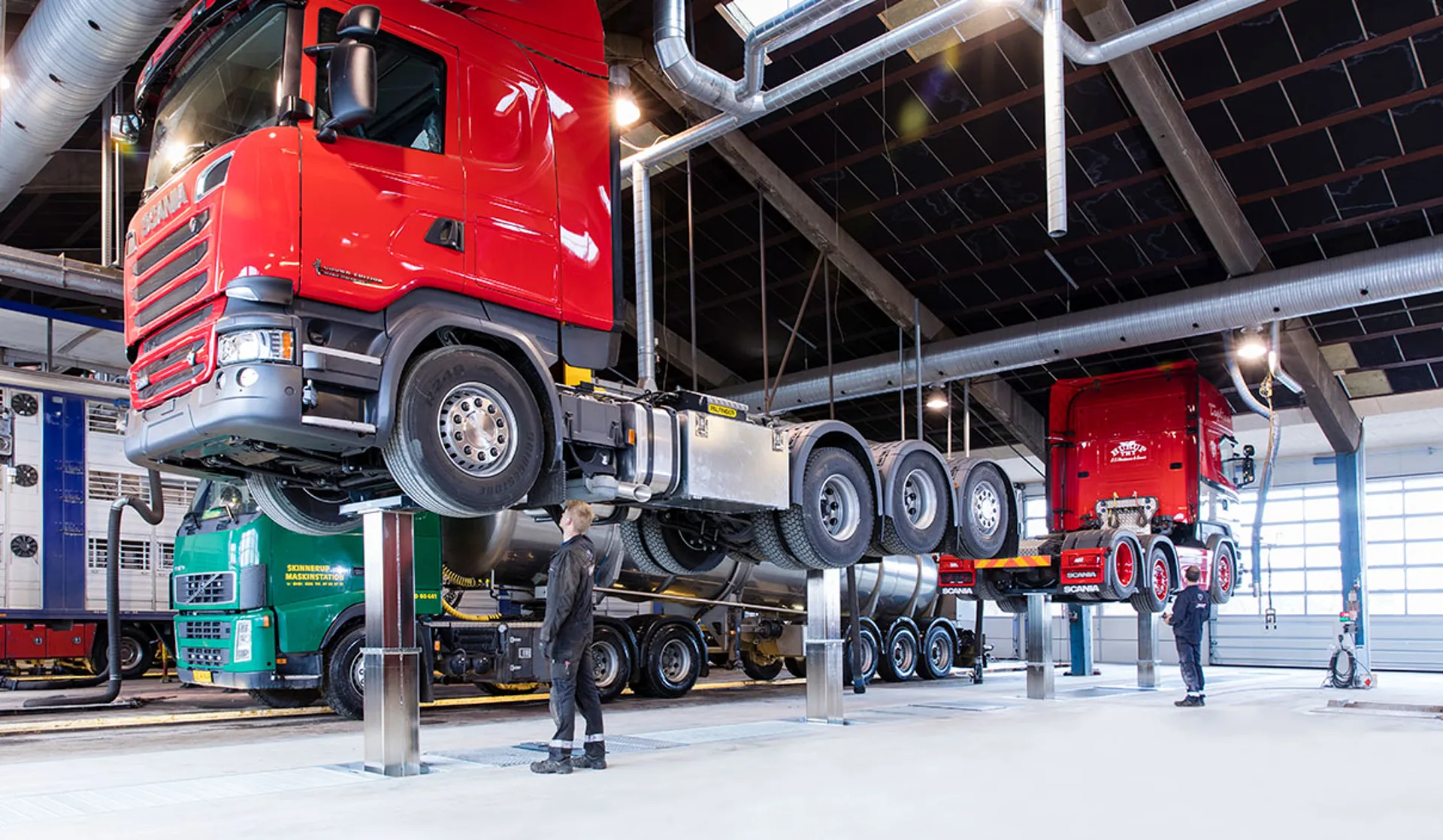 HOW MANY LIFTING RAMS DO YOU NEED
TO RAISE THE STANDARDS OF YOUR WORKSHOP?
Hopefully, you now have a much better understanding of the inground lift and how the different number of lifting rams offer unique value to your workshop.
So how many lifting rams do you need? Well, choosing the right size lift is all about considering your present and future lifting needs. Therefore, please ask yourself: What will we need in the future?
To sum up and give you a clear overview of the different models, we have developed a table that gives an easy for you to compare their differences and similarities.
Our team at AC Hydraulic is always at hand to help you customize the perfect lift to meet your needs. Here is an overview of standard and customized options: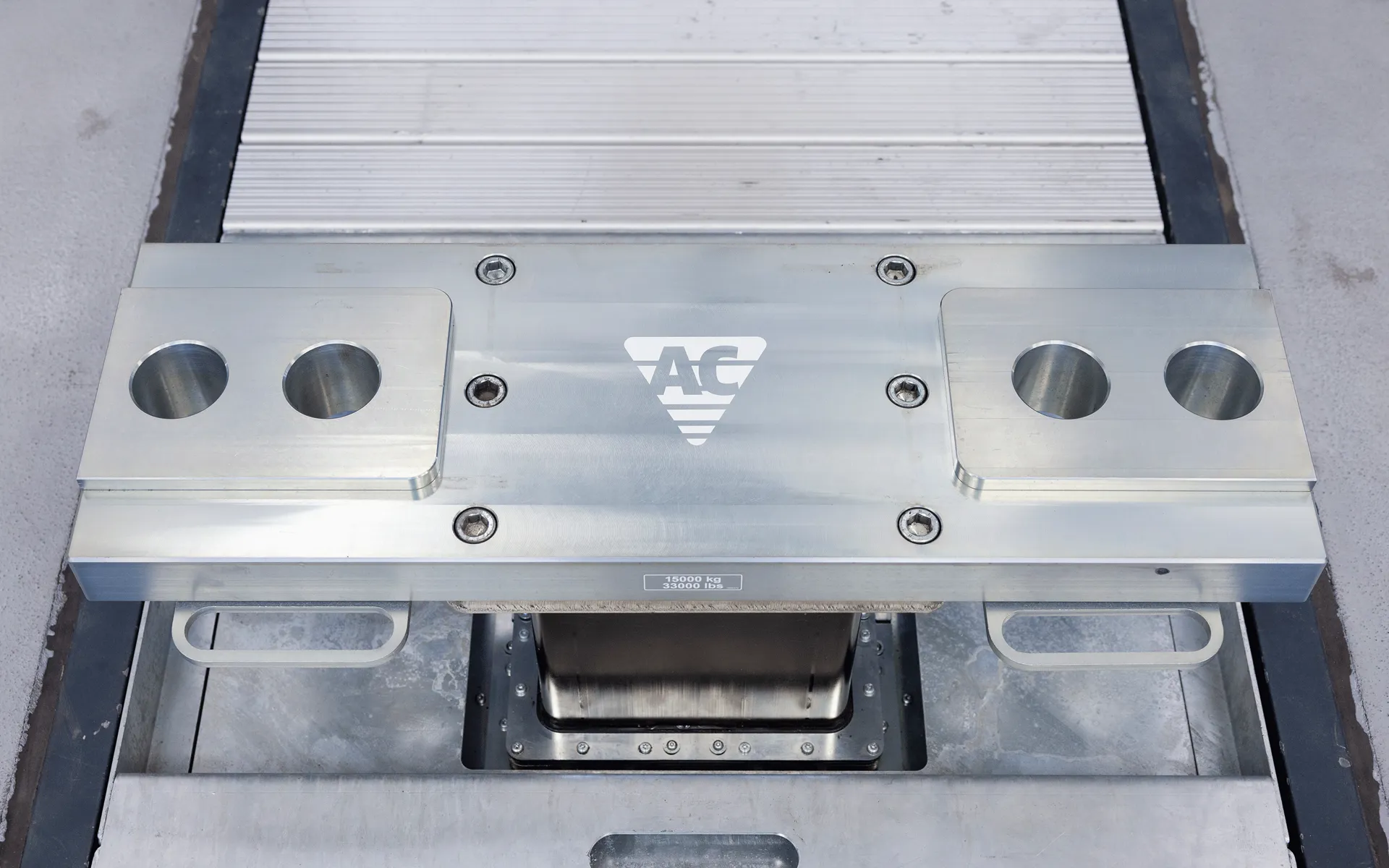 DO NOT RELY ON ANYTHING BUT THE BEST
Thanks to our more than 60 years of dedicated expertise and desire to deliver uncompromising product quality, safety, and service, you can rely on the fact that our inground lift will help raise the standards of your workshop – no matter whether you opt for two or five lifting rams.
So, are you ready to explore how the lift can improve your working conditions and workshop productivity?